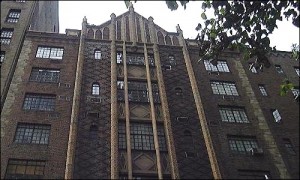 The year 1934 was a turning point in Dorothy Parker's life and this Art Deco apartment near the East River would be the last apartment for the "old" Mrs. Parker. With the nation deep in the Depression, the Algonquin Round Table long gone, and her close friends spread out, Dottie was about to abandon her old lifestyle.
She met Alan Campbell, a bit-parts actor and writer, who would become her second husband. He was 11 years Dottie's junior. At the time, Dottie had all but ceased writing prose and short stories and was floating through New York parties and social events. When Alan got a part in a play, she left The Lowell and rented an apartment in this building at 444 East 52nd Street.
The apartment has an unbroken view of the East River, and Dottie complained that it was "far enough east to plant tea." Across the street was Aleck Woollcott's apartment, Wit's End, so she was close by one former member of the Round Table. When Alan moved into the place, the couple added two dogs, Bedlington terriers Wolf and Cora, which they failed to train.
While living here on the East Side, Dottie and Alan socialized with writer John O'Hara and world travelers Gerald and Sara Murphy. Ernest Hemingway was also in their circle of friends when he was in town. She also spent time with F. Scott Fitzgerald while he was getting ready to publish his masterpiece Tender is the Night, with characters based on the Murphy's. At the time, Zelda Fitzgerald was in a rest home on the Hudson and Scott and Dorothy painted the town.
In early 1934 Dorothy made appearances on Woollcott's CBS radio show The Town Crier while deciding what to do next. When Alan took a summer stock part in a Denver, Colorado, theater company, she went with him. They took the dogs and went west. They married soon after in New Mexico. After the show folded, they took a jalopy and kept on going west to Hollywood, to begin a screenwriting career.
Today, this magnificent Art Deco gem appears it has not aged in its eighty years on East 52 Street. It is ten stories tall and is capped with three stone thunderbirds. The street is a dead end, and it overlooks the edge of the island and the FDR Drive and the East River. A very quiet block that probably looks the same as when Dottie and Fitzgerald piled out of a taxicab more than 75 years ago.