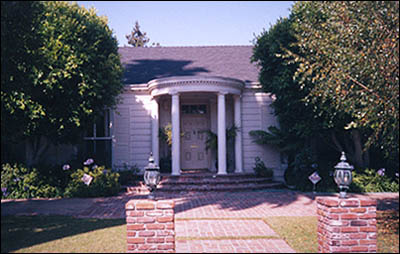 When Dorothy Parker and her husband Alan Campbell started cashing big checks for their work as screenwriters, they lived in a series of rented homes. The move to Beverly Hills and 520 North Canon Drive came in late 1934, soon after the couple landed in town.
They were under contract with Paramount, Dottie getting $1,000 a week and Alan $250. Within a couple years, the team was pulling down more than $5,000 a week. This was at the height of the Depression too, and in today's currency that would be three times as much. When Dottie and Alan moved into the house, they invited 100 people for a housewarming. Three hundred showed up.
About this time Parker all but stopped writing verse and poetry, mainly due to her demands as a screenwriter and activist. She was involved in organizing the Screen Writers Guild and driving membership in the mid- to late-1930s. Several leftist causes also took up her time.
Beverly Hills is an independent city and separate from Los Angeles. It is the favorite residential address of the entertainment business. The Beverly Hills "Golden Triangle" is the West Coast's answer to New York's Madison Avenue. Where Dorothy and Alan lived on North Canon Drive, off Santa Monica Boulevard, is nearby the Beverly Hills Hotel and famed Rodeo Drive. The gold and white Art Deco style MGM Building (today Sony Pictures Studios), where the couple sometimes worked (and argued with Louis B. Mayer) is a short distance away.