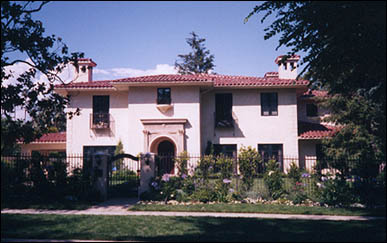 This Beverly Hills mansion is a world away from Dorothy Parker's girlhood home on West 72nd Street. With their weekly screenwriting incomes ranging from $2,000 to $5,000, Dottie and her second husband, Alan Campbell, lived a lavish lifestyle. They had a cook, a servant, a Packard convertible and nice furnishings. By all accounts, Dottie and Alan blew the money as fast as they made it.
The house at 914 North Roxbury Drive they moved into in 1935 is probably the nicest address Parker ever had outside of New York. The colonial mansion with magnolia and pine trees in the yard was massive. The couple had a Picasso on the wall and held buffet dinners for their many Left Wing activities Dottie was involved in. She held Marxist trade groups and co-founded the Hollywood Anti Nazi League.
Between 1933 and 1938 the writing team got credit for 15 films, but worked on many more. Dottie wished some of them would vanish forever. The couple spent three months at MGM working on Suzy, a comedy with Jean Harlow and a young Cary Grant. Some of the other movies they worked on: Here is My Heart, One Hour Late, The Big Broadcast of 1936, Mary Burns, Fugitive, Hands Across the Table, Paris in the Spring, Three Married Men and A Star is Born. The latter was nominated for an Academy Award; one of two Parker was nominated for (Smash Up in 1946 being the other).
This is a beautiful home right in the best part of Beverly Hills. Some of the other famous addresses on this street are Jack Benny's house (No. 1002), Lucille Ball and Desi Arnaz (No. 1000) and very close at No. 918 is the mock Tudor former home of Jimmy Stewart.