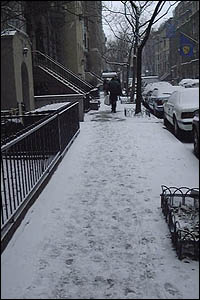 When I read this story in Dorothy Parker: A Bio-Bibliography, I knew it had to be added to the site. Many don't know that Parker was socially conscious and politically active at a time when it was not popular.
She was backlisted as a Communist and had to testify before the Senate in 1955. Parker was pro-integration her whole life (she would bequeath her literary estate to Dr. Martin Luther King Jr) as anyone who read 1927's "Arrangement in Black and White" well knows.
This passage, which probably took place on the same spot I took the photo at her pre-teen home, was written for the leftist New Masses in March 1939. In it she speaks of how her awareness of inequality began at a young age, at the turn of the century as child, during a snow storm on the Upper West Side:
I was in a brownstone in New York, and there was a blizzard, and my rich aunt—a horrible woman then and now—had come to visit. I remember going to the window and seeing the street with the men shoveling snow; their hands were purple on the shovels, and their feet were wrapped with burlap. And my aunt, looking over my shoulder, said 'Now isn't it nice there's a blizzard. All those men have work.' And I knew then that it was not nice that men could work for their lives only in desperate weather, that there was no work for them when it was fair.
If this memory is true, it possibly took place here, on West Sixty-eighth Street. It's a cozy block between Central Park West and Columbus Avenue. Most of the brownstones that line the block are original to the street.