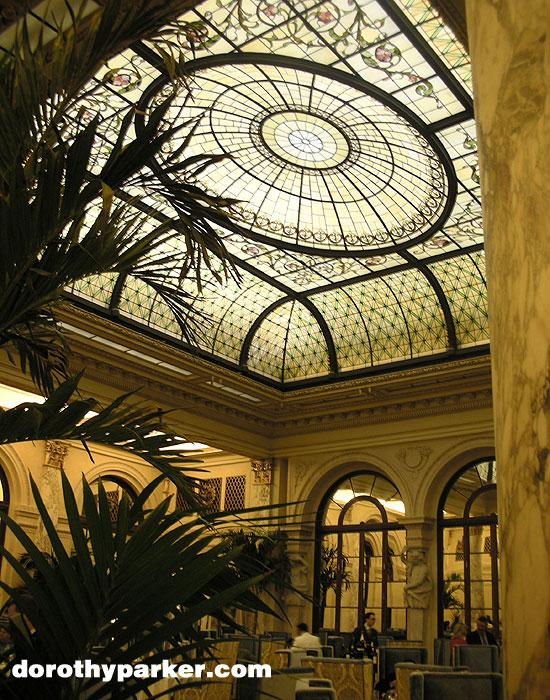 It's a New York landmark, and it's also where Dorothy Parker was taken to be fired from Vanity Fair. At the time, Parker was the caustic theater critic for the Condé Nast publication, and was in the habit of skewering shows that deserved it.
On a Sunday in January 1920, editor Frank Crowinshield took Parker to Sunday brunch in the famous Palm Court in the Plaza Hotel, praised her writing and told her she'd be famous someday, then fired her. The real reason for her dismissal wasn't stated, but it probably had to do with her offending the wrong Broadway producers. Parker had been on the magazine for four years; prior to that she had worked at Vogue for two.
The next day, her close friend, Robert Benchley, the managing editor of the magazine, resigned his position in protest. Robert E. Sherwood, the third member of the editorial department, had quit just a week before after being turned down for a raise.
Talk about bad timing, the same week, the 13-year experiment of Prohibition went into effect.
Mrs. Parker was also a temporary guest of the hotel on more than one occasion, although contemporaries noted she rarely could afford the bill.
Today, you can't miss The Plaza, a city institution. It sits across the street from Central Park. In 2004 the hotel was purchased by an Israeli company, El-Ad, for some $675 million. The company closed the Plaza for three years and spent a reported $400 million to renovate and update the hotel. When it opened again in early 2008, what had been an 800-room luxury hotel had been reduced to 130 rooms. The other 60 percent of the hotel was carved up into 181 luxury condominiums, with prices beginning at $2.5 million.