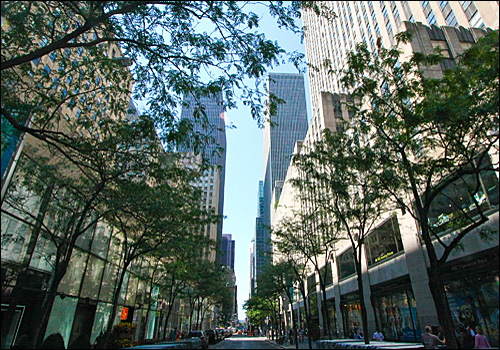 Dorothy Parker's two favorite speakeasies were Jack and Charlie's Puncheon Club and Tony Soma's.
It was at these gin joints during the 1920s that Parker lived the high life as one of the era's leading literary lights and wits. Carousing late at night with her husband, Eddie, Robert Benchley, Charles MacArthur, Alexander Woollcott or one of her many boyfriends, it was at the speakeasy that many of her short stories and verse grew from.
In the Jazz Age and the Depression, it was at the drinking holes of Manhattan that Parker wagged her acid tongue. She may have lunched at the Algonquin Hotel, but nightlife was at the speakeasy. If you want to model your drinking like her, here's a tip: Dottie preferred Johnny Walker scotch whiskey neat. And she sipped it.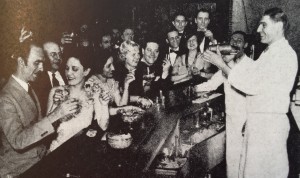 Jack and Charlie's (later "21") was located at 42 W. 49th Street. Tony Soma's was across the street. It was at Tony's, reportedly, that a bartender asked Dorothy: "What are you having?" Dottie: "Not much fun." It was at Jack and Charlie's that she spent the evening in 1928 on the day her divorce from Eddie came through: Dottie was drinking with boyfriend John Garrett II, and was crying her eyes out. At Tony's, Dottie and Mr. Benchley were grabbed by a patron showing off his new, indestructible watch. The pair took delight in pounding the hell out of it, stamped on it, and handed it back to the owner. "It's stopped," he said. They answered together: "Maybe you wound it too tight!"
Today, the two speakeasies are just warm memories. Tony's (Tony was the maternal grandfather of the actress Anjelica Huston) and Jack and Charlie's both suffered the same fate: Rockefeller Center. The 70-story Radio Corporation of America building was completed in May 1933, and it sits on the spot where Tony's was located. This is now the headquarters of NBC Studios, where Saturday Night Live and Late Night with Jimmy Fallon are produced. So a whole new generation of comedy is being created, 75 years after Parker and her witty pals departed the scene. And 70 stories directly above the spot is the Rainbow Room, a good place to toast Parker with a martini and slow waltz.
But it is Jack and Charlie's demise that is funniest, because millions of Americans see the very same spot on television daily. Where the speakeasy stood is now the Today Show studio. (To split hairs, it's actually at 32 W. 49th and next door is Christie's auction house, so it's someplace in between). So the Today Show regulars are treading where Dottie was such a prolific drinker, and where Benchley had his first drink. Several floors above is the studio where Jimmy Fallon has an office.