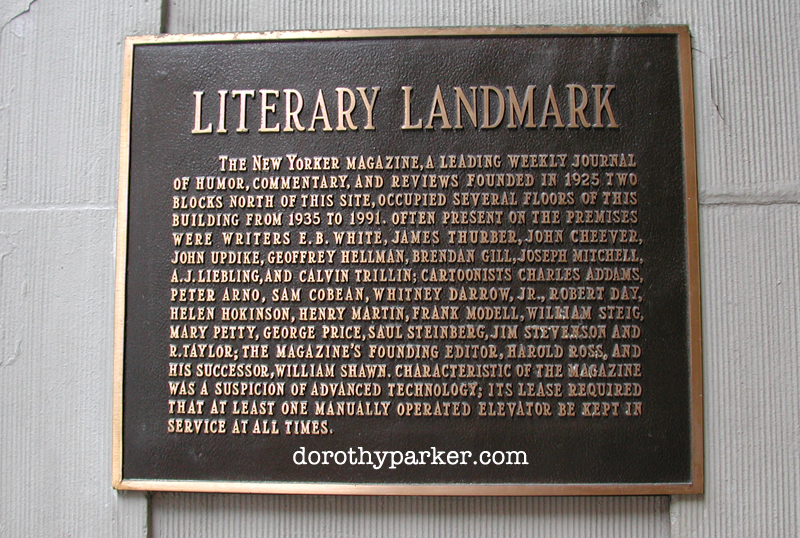 At 28 West 44th Street is the spot where The New Yorker was published from the Depression right up until the George Bush years. It is a fairly plain looking building that for decades leased several floors to the magazine. In this building everyone associated with the magazine had to come by.
When Harold Ross and Jane Grant launched the magazine in 1925 from theire Hell's Kitchen house, Ross relied on his friends from the Algonquin Round Table for support. The first home of the magazine was 25 West 45th Street; it moved to this building in 1935 and remained here until 1991.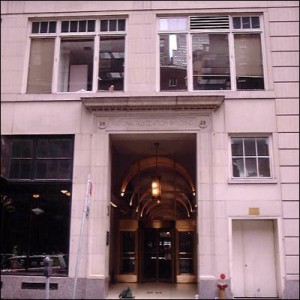 Ross edited the magazine up until his death in 1951. By then, Dorothy Parker's ongoing association with the magazine was long over. The famous story of Parker and Ross is often repeated about her terrible work habits. He spotted her in a speakeasy in the middle of the day, not at the office. "Someone else was using the pencil," she told him.
The first issue of The New Yorker appeared on Feb. 21, 1925. Parker wrote drama reviews for the first two issues. It was not a big hit with the Round Table (it almost went under a few times), but many continued to serve on an "advisory board" in the masthead. On the list was Parker, who would write many short stories for the magazine.
Her first published New Yorker piece was "A Certain Lady"—Parker defined what was a "New Yorker Story"—under 7,000 words in length, urbane, clever, and absolutely well-written. Over the next 74 years, writers following in Parker's footsteps have been as diverse as J.D. Salinger and E. Annie Proulx.
Today, Condé Nast is the owner of the magazine, the same company that publishes Vanity Fair and Vogue, where Dottie launched her career. In 1991, six years after being sold to Advance Publications, the staff vacated the offices and moved sixty feet south, to 20 West 43rd Street. They lasted there for about ten years. In 2000, the magazine moved to the twentieth and twenty-first floors of 4 Times Square, on the corner of 42nd Street and Seventh Avenue. This forty-eight-story building (nickname: The Death Star) is also home to GQ, Vanity Fair, and Vogue. In 2015 The New Yorker relocated downtown to One World Trade Center, at 285 Fulton Street, with the rest of Condé Nast.