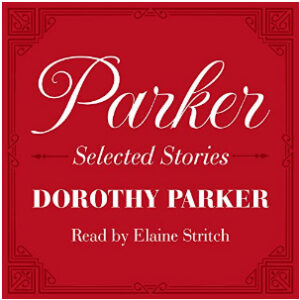 Parker: Selected Stories
Performed by Elaine Stritch
Penguin Audio (reissue 2018)
[Buy Via Amazon]
In these selected stories, read for you by Elaine Stritch, we have the chance to draw upon Dorothy Parker's insight into the social and emotional realities of human nature. These stories are from the classic collection of Parker material and include her best-known work. The following stories are featured in this audiobook collection:
Big Blonde
Too Bad
The Song of the Shirt
Mr. Durant
From the Diary of a New York Lady
The Standard of Living
The Garter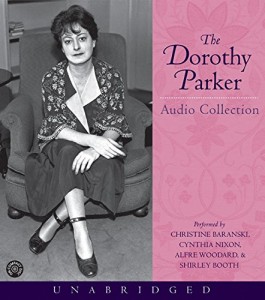 The Dorothy Parker Audio Collection
Performed by Christine Baranski, Cynthia Nixon, Alfre Woodard, & Shirley Booth
HarperAudio; Abridged edition (June 1, 2004)
[Buy Via Amazon]
The best Dorothy Parker audio book on the market. Among the gems included in this collection are her first published short story, "Such a Pretty Little Picture" and her O. Henry Award-winner "Big Blonde," several other short stories, and, unlike other audio collections, some of her review work. Includes:
Big Blonde
Mrs. Post Enlarges on Etiquette
Dusk before Fireworks
Review of Redemption
But the One on the Right
Horsie
Diary of a New York Lady
The Game
Just a Little One
The Bolt Behind the Blue
Valedictory Review
Such a Pretty Little Picture
Lady With a Lamp
The Waltz
Cousin Larry
A Telephone Call
Selected Readings from The Portable Dorothy Parker
Performed by Lorna Raver
Blackstone Audio, Unabridged edition (February 2007)
[Buy Via Amazon]
This audio book comes on 11 CDs and is approximately 13.5 hours long. The introduction to the 2006 edition of The Portable Dorothy Parker written by Marion Meade is part of the package (Meade wrote two books about Parker). This audio book presents many of Parker's best pieces of short fiction and verse. It includes:
Enough Rope (Poems)
Death and Taxes (Poems)
Sunset Gun (Poems)
The Lovely Leave
Arrangement in Black and White
The Sexes
The Standard of Living
Mr. Durant
The Waltz
The Wonderful Old Gentleman
Song of the Shirt, 1941
A Telephone Call
Here We Are
Dusk Before Fireworks
You Were Perfectly Fine
Mrs. Hofstadter on Josephine Street
Soldiers of the Republic
Too Bad
The Last Tea
Big Blonde
Just a Little One
Lady with a Lamp
The Little Hours
Horsie
Glory in the Daytime
New York to Detroit
The Custard Heart
From the Diary of a New York Lady
Cousin Larry
Little Curtis
Sentiment
Clothe the Naked
War Song
Essential Parker
Performed by Christine Baranski, Cynthia Nixon
Caedmon Essentials/HarperAudio; Unabridged edition (October 10, 2006)
[Buy Via Amazon]
Dorothy Parker's O. Henry Award winner "Big Blonde" is presented here in this special 60-minute audio book. Three classic Parker pieces are read by Christine Baranski (The Birdcage, Reversal of Fortune) and Cynthia Nixon (Sex and the City). This audio book includes:
*Big Blonde (Cynthia Nixon)
*Mrs. Post Enlarges on Etiquette (Christine Baranski)
*Horsie (Christine Baranski)
Dorothy Parker: What Fresh Hell Is This?
by Marion Meade (author) & Grace Conlin (reader)
Publisher: Blackstone Audio, Inc.; Unabridged Library edition (2012)
[Buy Via Amazon]
The definitive biography of Dorothy Parker is this one by Marion Meade. Dorothy Parker, What Fresh Hell is This? was published in 1987 and was re-issued in 2007 with a new author's afterword that fills in what has happened to Parker's legacy in the last 20 years. Meade is a thorough and detailed biographer who has a writing style that is perfect for a biography. She paints a balanced portrait of the amazing Dorothy Parker, and shows why Parker is an important figure in literature. Lots of documentation and sources cited; ancedotes, yarns, and myths about Mrs. Parker. Meade is the only one to interview Parker's family. Of the three Parker biographies out there, this is the best one. Meade is like a private investigator who turns up new information and new facts about Mrs. Parker. You can't be a Parker fan and not own this. Read an interview with Marion Meade here.
Voice of the Poet, American Wits: Ogden Nash, Dorothy Parker, Phyllis McGinley
Random House Audio; Audio CD (March 2003)
Highly Recommended.
[Buy Via Amazon]
Complete with full text, original recordings, and pictures of the artists, this offering is a multimedia delight. Three of the world's cleverest poets. Three voices, each giving a rare glimpse of genius on the hoof. Did you know that Ogden Nash had an upper-class drawl? Who would have guessed that Dorothy Parker, wicked and irreverent, might have passed on the phone as the headmistress of an exclusive girl's school? Three brief but pithy biographies are bound in a booklet with pictures of the artists and facsimiles of their signatures. A companion book contains the text of the poems.
Fierce Pajamas: Selections from an Anthology of Humor Writing from the New Yorker
5 CDs, 6 hours. Unabridged.
[Buy Via Amazon]
Members of the Algonquin Round Table are here, as well as James Thurber, E.B. White, Ogden Nash, Groucho Marx, and S.J. Perelman. On the contemporary side, we have Garrison Keillor and Steve Martin, among others. There are a few classics, such as Thurber's archetypal "Secret Life of Walter Mitty" and Woody Allen's "The Kugelmass Episode," in which a horny NYU prof magically slips between the sheets with Emma Bovary. Six fine pros divide the reading chores; their interpretations range from just above par to terrific. An essential album for anyone interested in the development of American humor in the 1900s. Was 2002 Winner of AudioFile Earphones Award.