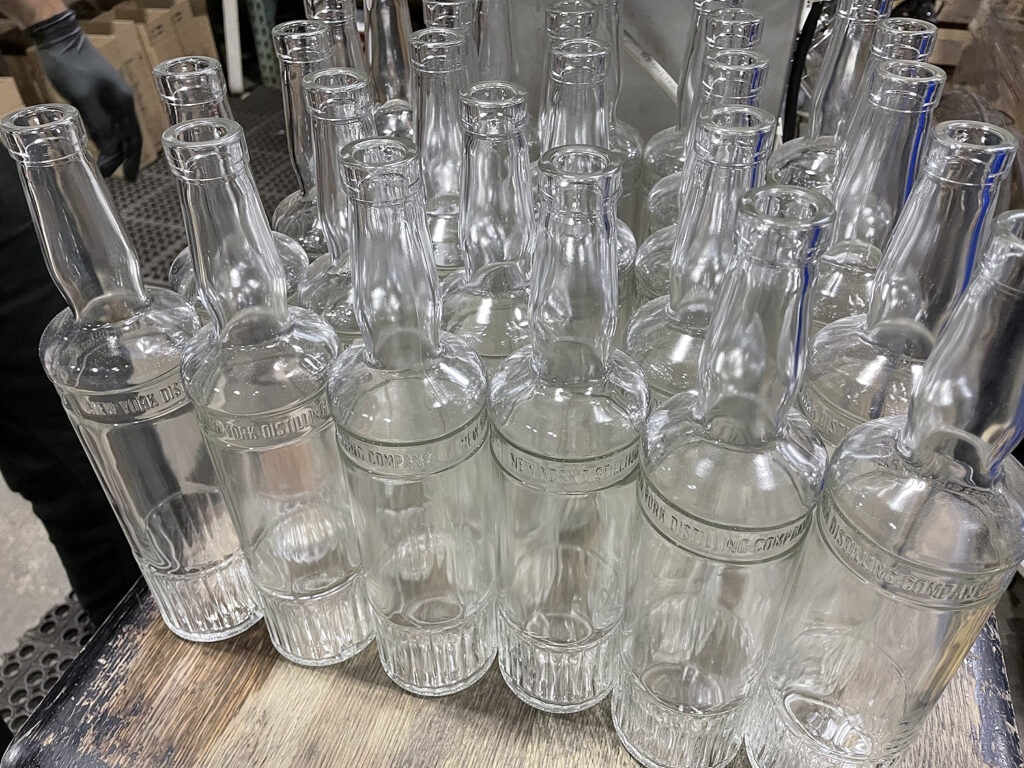 The annual Parkerfest returns from the Dorothy Parker Society! Celebrate Dorothy Parker Christmas as we mark her birthday with events in Brooklyn, The Bronx, and Manhattan. This year we are adding a new taste to the annual party: oysters! Parkerfest began in 2000 and has continued (almost) annually. Here is the schedule of events.
Wednesday, Aug. 17, 6:00-9:00 p.m. New York Distilling Company/The Shanty.
79 Richardson Street, Brooklyn, NY
Come in your vintage best or vintage-inspired attire for a party and gin celebration like only the NYDC can host. The makers of Dorothy Parker Gin are sponsoring a pre-birthday night to celebrate. There will be special cocktails made with Dorothy Parker Gin, a tour of the operation led by Hannah Toale, New York Distilling's Production Manager and Dorothy Parker Gin Distiller, (who oversaw the 2021 special batch for the gravestone fund) will lead a complimentary tour focused on gin distillation and the historic link to urban distilling (with a sample taste), and complimentary oysters. Wear 1920s-1930s attire to get a souvenir flask of Dorothy Parker Gin to savor and enjoy! You must be 21 to attend.
The night's festivities will include a martini menu curated by the Shanty's bar director, Marissa Mazzotta, featuring New York Distilling Company's acclaimed Dorothy Parker – New York Gin – a blend of traditional and contemporary botanicals including juniper, elderberries, citrus, cinnamon, and hibiscus, as well as Dorothy Parker Rose Petal Gin – a fanciful variation on the original with an infusion of red and pink rose petals crushed with elderberries. A range of Shanty classics with Ragtime Rye, the distillery's acclaimed rye whiskey made will also be available.
In honor of the occasion, there will also be a full oyster bar in partnership with Billion Oyster Project, an organization dedicated to restoring oyster reefs to New York Harbor in collaboration with New York City communities. What better pairing is there than a crisp, refreshing Martini and fresh, succulent oyster? New York Distilling Company will donate a portion of the evening's proceeds to these important efforts.
Saturday, Aug. 20, 3:00-4:30 p.m. Dorothy Parker Upper West Side Manhattan Walking Tour.
West 72nd Street and Riverside Drive, Manhattan (Eleanor Roosevelt Statue)
Retrace the steps of Dorothy Rothschild from childhood to adulthood. See the places Dorothy lived and walked, from her homes to her school. A fantastic way to see the life of Dorothy in her neighborhood. See architecture and the haunts of Dorothy Parker's life. Meet at the corner of West 72nd Street and Riverside Drive at 3:00. Purchase tickets in advance here. $35 Adults, $32 Seniors over 65. All ages welcome, and dogs are welcome too!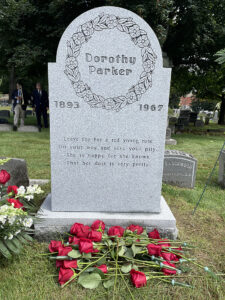 Sunday, Aug. 21, 3:00-4:30 p.m. Woodlawn Cemetery
Jerome Avenue and Bainbridge Avenue, The Bronx, NY
Dorothy Parker and the Newsmakers of New York Trolley Tour. Take a trolley tour to visit Dorothy Parker's final resting place, along with others who were the "Talk of the Town" of the era. See stunning architecture and mausoleums. Besides Dorothy Parker we will also visit names such as Alva Vanderbilt, Fred Thompson (Luna Park), Bert Williams, Nellie Bly, and a special toast to "Professor" Jerry Thomas, creator of the first bartender guide. You must purchase tickets in advance here from Woodlawn Conservancy, space is limited and will sell out. $25 Adults, $20 Students, Seniors, Woodlawn Members. Meet at the Jerome Avenue Gate at 2:30 p.m. Directions Here. Following the tour we will convene at the biggest bar in Woodlawn for drinks and eats (separate price, cash bar). All ages welcome, no dogs.
Monday, Aug. 22 (Dorothy Parker's Birthday) 6:30 p.m.
Algonquin Hotel Blue Bar, 59 West 44th Street, Manhattan
Come to everyone's favorite hotel for your favorite cocktail. Enjoy the new Al Hirschfeld prints in the lobby. Meet Hamlet, the hotel's resident feline. Must be 21.
If you can't join us in-person, celebrate in your hometown and you will be with us in spirit.